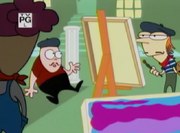 Le Artists is the movie Brendon and his friends make in Stowaway.
Melissa: Maybe it's time we quit art and get real jobs, no?
Brendon: But we are the finest artist's in Europe.
Jason: Then why can't we pay la rent?
Brendon: Because my friend we haven't sold anything yet.
Melissa: And when will we sell something?
Brendon: First we must create it, no?
Melissa: Course, after inspiration comes of course.
Brendon(as owner of the artists house): Hello you are evicted!
Melissa: Oh no, where will we go?
Brendon(as owner of artists house): You can go to hell for all I care! Now away with you!
Jason: We don't need know apartment.
Melissa: No we don't, we are le artist.
Brendon: Nobody can get us down can they?
Jason and Melissa: Noooo
Jason Melissa and Brendon: Ohhh Ohhhh
(singing)Brendon: We are artists!
(singing)Jason and Melissa: Yes we are!
Singing)Brendon: Doodley Doo
Singing)Jason and Melissa: Yes we are
(Singing)Melissa: We paint and sculpt and write
(singing)Brendon: Were so creative we just might............. sit in cafes and drink Cappachinos
(singing)Melissa: Swat mosquitoes
(singimg)Jason: Eat Burritos
(singing)Brendon: To be an artist sure is neato!
(singing)ALL: Were artists and were blessed by Zeus!
Brendon: Cut and print!!!!!!